In April 2008, around the anniversary of the death of my Aunt Maxine, I started seeing 11:11 every day when I looked up at the clock. Not every time I looked at the clock because 11:11 only comes twice a day for those of us on a 12-hour clock, but often I'd feel compelled to look at the clock at this precise time. It went on for over two weeks and became rather unsettling.
What was the Universe trying to tell me? Something significant, or just that random chance sometimes gets stuck, throwing "heads" 85 times in a row?
Then I remembered my Aunt Maxine's birthday was November 11 and wondered if it was her saying, "Hey, I'm still around. Don't worry so much." This was a comforting thought and the creepiness factor went away, although the 11:11's didn't. I kept seeing them for weeks after.
So I did what any semi-rational human being would do in such circumstances. I googled it.
Golly. There are a universe of beliefs around the coincidence of seeing 11:11. Yeah, I still (mostly) call it a coincidence, even though my personal anecdote seems to convey meaning, because post hoc theorizing and confirmation bias and because of all the fuzzy and convoluted theorizing I read online.
For instance, there's this guy:
Um. I did scurry to my tarot to see what card was 11. It's Justice. I thought, "If it's the Hanged Man I'm going to mess myself." Because for me that relates to 9/11 and I just didn't know if I could stand that. The Hanged Man was 12.
Mr. Fuller is right about it being more important for me to find my own answers, but I looked online for more data points.
Uri Geller has a lot to say on 11:11 but I can't tell you all of it. I fell asleep about halfway through his article. In all fairness to Mr. Geller, this strange phenomenon happened to me on more than one article on 11:11, which doesn't always coincide with clear and concise theorizing.
Of course, no consideration of 11:11 would be complete without this:
However, some of the folklore surrounding 11:11 is charming, like the idea that if you look up to see it your wish will come true. Or when you see it repeatedly it means that you are beginning to "awaken" spiritually, and 11:11 is the indicator that you're on the right path. Some believe it's a sign that your angels are listening and you should ask for their guidance.
Other beliefs are darker, like the theory that 11:11 is a portend of great earth changes or history on the brink of something momentous…Actually, I don't want to think on that one too hard, given recent seismic events in politics. I much prefer the belief that when you see 11:11, you should stop and consider the significance and importance of the moment in which you live. Of the moment, in the moment.
But Maxie, if that was you, I love ya, babe.
Mirrored from Better Than Dead.

Conseil Tenu par les Rats by Gustave Doré
Rat magic and first world problems
My third, and mostly successful, extermination company came to the house last week. They had to reinforce some of the extensive anti-rat measures they did last June to seal the house from intruders. That previous round of prevention seemed to have worked pretty well. It didn't appear that I had lost any more appliances, anyway. Through chewing hoses and what-like, the rats had taken out my washer six times, my refrigerator water hoses twice, completely ruined the fairly new dishwasher so it can't be fixed, and stolen insulation from my antique stove. All that seemed to cease, as I said, after the rat men did their thing last June. Then the furnace man showed up after the rat men left. During the summer when I wasn't using heat, the rats had chewed holes through all the ducts and built nests—which is why I kept smelling something burning and can't now use the furnace because of fire danger. I have no heat until the furnace crew comes to replace ducts on Saturday. It's the busy season for heating folk and they're working overtime to fit me in. Which I'm paying for, of course.
We didn't used to live in the state of rat siege I've experienced in the last couple of years. I didn't think it had anything to do with magic, but now I'm thinking maybe it did. Rat magic? Spirit of place magic? The magic of persistent and smart vermin and the spells to counter them. Or maybe the magic of my missing mother who died almost two years ago. She said the first time she stepped into this house it welcomed her with open arms. She knew she was home. I believe that. I truly think the house loved her. We had rats when she was alive, but nothing like this deluge and we never lost any appliances to them. My mama had her some powerful mojo, I tells you.
I've tried the magic of plugging holes with wire mess and solid metal, the magic of rat traps, the magic of cayenne pepper dumped down their holes and liquefied to spray on appliance hoses and the surfaces they frequent, the magic of poison, and now I've experienced the magic of my third round of mesh and metal and traps. These vermin are also partial to building rat nests in my bookshelves, consisting of my books and notebooks, taking over my art and craft cabinets–there's a metaphor I don't wish to examine too closely. I make sure I lock up every scrap of food at night, which cheeses off the cat. She liked snacking at night. I told her since she decided to retire from mousing, those were the breaks.
Before that second round of anti-ratting seemed to save my appliances, I felt pretty desperate. I decided I had nothing left to lose and I'd try some more conventional magic—spells and charms and the like. If nothing else, it was something to make me feel less helpless. Interestingly, rat spells are sparse, at least on the on the internet and in the books on magic I have. Our ancestors probably recognized the futility of trying to get rid of these insistent, persistent, adaptable rodents. I found one candle spell; an ancient Christian amulet which I talked about here; a few references to putting mummified cats in crawl spaces and building foundations to ward off the beasties. One of the more passive aggressive techniques I found entailed writing letters to the rats stating that the eating was much better at the neighbors' houses and they should go there and leave (my) house alone. The letters are then stuffed down the rat holes. As any fan of Outlander can tell you, this is reminiscent of the Scottish tradition of "rat satires," improvised songs indicating that they should leave the house alone and go to the neighbors.
I am not passive aggressive by nature, nor did I wish to mummify my cat or any other cat, and I felt I needed something quicker than making an amulet. I decided to do the candle spell.
My experience with the spell
I mentioned that I was desperate and wanted something quick, right? The spell had to begin on the night of the full moon at moonrise—and the day I found it was the full moon. I didn't want to wait another month so decided to use what I had around the house. It called for yellow candles and the only yellow candles I had were about three inches long. You were supposed to run the spell for two hours every night until the candles burnt up. The ones I had probably wouldn't make it through the first night, but I thought it better than nothing. (First corner cut.) The spell called for a sprig of heather so I confidently went into the front yard and only then realized the gardener had pulled up the heather bush. I quickly looked up the magic properties of heather and realized rosemary had many of the same, so I cut a sprig off my rosemary bush. (Second corner cut.) Moonrise was late that night and I had to get up at 5:45 the next morning for work, so I started the ritual early. (Third corner cut.) About 45 minutes into the ritual, the rats started making an unusual amount of noise in their favorite room, the one where I keep my birds. In general, their behavior was much louder and more aggressive that night. One of them got up on the fridge and scooted down the face of it, knocking off one of the magnets. My magnet portraying the three faces of Hecate. Most of the candles from my ritual burned out after about 90 minutes, but one brave little flame burned on. Just shy of the two hour mark the candleholder for that brave little flame spontaneously shattered.
Between the raucous behavior of the rats, the cracked glass, and the Hecate magnet I had a strong suspicion the Universe was telling me something. Maybe to do the ritual the proper way next time. Or maybe Hecate and the rat gods were saying, "I hate dabblers." I rather thought it the latter. I've long maintained that dabbling is a dangerous practice, but I had set aside my principles that night in frustration. Henceforth, I've decided it would be better to take my own—and Hecate's and the rat gods advice—and leave the magic to those who know what they're doing.
The rat siege continues, though it has abated somewhat. I accept that it will continue. Nature always finds a way in where humans wish to keep it out—no magic about that. After all, the rats consider this their home as well. Maybe instead of fighting them I should try propitiating the rat gods? Or maybe the spirit of place, to see if the house will help me as it did my mother.
Mirrored from Better Than Dead.
Random quote of the day:
"The witchcraft of sleep divides with truth the empire of our lives."
—Ralph Waldo Emerson, "Demonology"
Disclaimer: The views expressed in this random quote of the day do not necessarily reflect the views of the poster, her immediate family, Lucy and Ethel, Justin Bieber, or the Kardashian Klan. They do, however, sometimes reflect the views of the Cottingley Fairies.
Mirrored from Better Than Dead.
This story isn't exactly folklore—yet—but it should be. Maybe someday, given the way stories spread and change, it will be.
For now, this is the story of the small village of Nagoro, Japan whose population has dwindled drastically, going from 300 residents to 30. There are no children in the village anymore. It's in the process of dying, like so many villages in Japan whose overall population is in decline.
Tsukimi Ayano saw the profound change when she returned to her village to care for her father fifteen years ago after living in Osaka for many years. Now sixty-seven, she's one of the youngest people left in Nagoro. About ten years ago, she planted some seeds and needed a scarecrow to keep the birds away. She dressed it in her father's clothes—with his permission—and noticed that the neighbors said hello to the doll. So she made more dolls, repopulating the village gradually, some representing people who had died as a form of remembrance, like her own grandmother, some made up from her fertile imagination. She's repopulated the now-closed school, filling it with students and teachers, making it as she remembered it from her own youth.
She makes these dolls from joy, she says, not from loneliness or despair. They just make her happy.
The tourists have found Nagoro, and some of the neighboring villages have asked her to make scarecrows for them. Some people find them charming, some find them creepy, but such is the way of the world. Tsukimi Ayano says she will keep on making them as long as she is able to.
You can read the entire NPR story here and see more pictures of Ayano's work.
Mirrored from Better Than Dead.
Many have written about the ritual use of shoes, including me. This post isn't about that, but it is about the fairytale-psyche-soulful aspects of shoes.
I've been reading Women Who Run With the Wolves by Clarissa Pinkola Estes again. This is a book I have picked up and put down many times over the years. It's as chewy as a chocolate caramel candy with almonds and each chunk of it takes a lot of mastication before you can swallow and digest. But it nourishes the soul and I love it. Ms. Pinkola Estes uses fairytales and Jungian analysis to help women reclaim—or never lose in the first place—their wild woman soul, that part of her that yearns for freedom and creativity and a life of standing on her own two feet.
In the chapter, "Self-Preservation: Identifying Leg Traps, Cages, and Poisoned Bait" she does a brilliant analysis of "The Red Shoes." I'm not going to duplicate that here because, really, she's already done it only better and I highly recommend reading what she says. However, the chapter does touch upon the special, deep-down meaning shoes have had for millennia.
Shoes send social signals, of course. Often people are judged by what they wear, especially on their feet. "Artists," Ms. Pinkola Estes says, "often wear shoes that are quite different from those worn by, say, engineers." However, if we're talking ancient times, rulers had shoes, peasants didn't. They were symbols of power. In a southern clime, shoes weren't as necessary, but in a northern climate, they were vital to survival. Even the poor must find some sort of foot covering to withstand the winter.
The symbol of shoes can be understood as a psychological metaphor; they protect and defend what we stand on—our feet. In archetypal symbolism, feet represent mobility and freedom. In that sense to have shoes to cover the feet is to have the convictions of our beliefs and the wherewithal to act on them. Without psychic shoes a woman is unable to negotiate inner or outer environs that require acuity, sense, caution, and toughness.
It occurs to me when reading this that it might in part explain why so many women in these modern, privileged times tend towards shoe obsessions. Western society is divorced from so many of the soulful aspects of life that we seek that kind of toughness, that sense of freedom and creativity, from the outside in, rather than the inside out. It's a strategy that can never work longterm. The soulful life is never an outer construct. It requires work, constant work, from the inside. As Ms. Pinkola Estes points out, "red indicates that the process is going to be one of vibrant life, which includes sacrifice." You can't buy that ready made. You can't find your soul in an enormous shoe closet.
She also points out that in ancient matriarchal cultures in India, Egypt, parts of Asia, and Turkey, henna and other red pigments were given to young girls to stain their feet during threshold rites (a term Ms. Pinkola Estes prefers to the male-coined "puberty" or "fertility" rites). Onset of menstruation was one of the biggest of these rites, menarche being the symbolic crossing from childhood to the full power of womanhood. Girls were welcomed into the tribe of women, with all its attendant mystery and power and sacrifice, to become part of a larger group, a soul group, a belonging tribe.*
We in the privileged world no longer cross thresholds in the same way. We stagger through them as individuals, menarche is downgraded to a "curse," we are made to feel ashamed of our bodies and their natural processes, and seek snake oil patents to cover "embarrassing odors." We are privileged but deeply impoverished, caught up in a dance that has no meaning but goes on and on until we are exhausted and must amputate our own soles to get some semblance of rest. We are looking to cover our poor, naked soul-feet from the outside in, lining our caves with glittering, shining, must-have ruby slippers.
I have nothing against Jimmy Choo or Marc Jacobs or Van's. I too have worshipped at the altar of the shoe fetish. But I recognize that the soleful life will never be the soulful life, and I try hard not to mistake the one for the other.
*Ms. Pinkola Estes sites no sources for these observations just gives a generalized bibliography at the end of her book.
Mirrored from Better Than Dead.
My hands remember
what mind does not: just so my
father planted beans.
As I've said elsewhere, I've long been fascinated by Green Men. I've only figured out recently that this may be because my own father was a Green Man.
It's funny the things that set you to remembering.
The other day when I was in the cafeteria at work, I had a semi-meaningless conversation about pickles. That conversation sparked a memory so keen I had to write it down immediately.
My father planted a vast vegetable garden every year in the immense back yard of our rental property in Venice. He had no tolerance for flowers and, like as not, he'd pull them up if he needed more space for edibles.
Still, the garden he planted was a work of art: lovingly conditioned soil, weeks in churning and amending, row upon neat little row of carrot, onion, parsnip, red radish, bell pepper. Beyond those rows, beautifully rounded little mounds held cucumber, ringed round with carefully dug irrigation channels. The leaves of the cucumbers were hairy and pointy-edged, the stems thick and fuzzy, bobbing green in the summer breeze, yellow in the fall. The tomato plants on the other side of the cucumbers always started in orderly, well-staked rows, but by fall they danced in an entwined frenzy. Along the back fence, wire with a spiky top, banana squash climbed. Sometimes corn grew beside it.
Between the back fence crops and the tomatoes ran an arbor for string beans—a porous frame of wood and chicken wire during the fallow months, ten feet tall and perhaps twenty feet long. In the summer months, though, it became a green tunnel as the beans climbed up the sides and over the top. The sun shone liquid green through the leaves, and even in the hottest summer the earth beneath—near-black with fecundity and never dried completely during the growing season—felt cool to my bare feet. That soil made all things seem possible. I would wander up and down it daydreaming, getting a buzz from the green smell of the beans.
If ever there was a place my soul felt repose, it was there. I suspect my father felt the same way. He preferred spending time in his garden, in the green bean tunnel, to time with my mother and I. Perhaps that wasn't so, just my perception, but it felt to me as if he couldn't find a way to bridge the gap between that shining green light and the warmth of the hearth. After the day's gardening, he seemed empty and at a loss. The demons that tormented him grew thicker in the air.
He'd nearly reached retirement age by the time I was born. When I was small, I adored helping him in the garden, just being with him. When I hit puberty, our worldviews had grown too divergent. At least two generations separated us, and only in the green space had we any hope of reaching across the decades. Even in puberty, the garden and that cool green tunnel seemed like a magic place. When the churning of my brain and growing body got to be too much, I'd return to it and wander up and down. I had this feeling, way down deep, that if I could just make it to the end of that tunnel, the true end, not the one I saw with my eyes, I'd be changed. Or maybe all my wishes would be granted. I never made it that far.
I'd see Dad in the tunnel, slowly walking up and down, lifting the bean pods tenderly in his hands to check their progress, seeing if they were ready for the ritual of the canning process. Mom and I were not allowed near the kitchen when the canning sacrament was underway. Mornings in late summer and early fall, I'd wake to the smell of green beans cooking, ready for the mason jars; or dill, alum, and vinegar boiling to turn fresh-picked cucumbers into the best pickles in the world. An astringent smell, but to me it held the promise of something delicious in the heart of winter.
I still see my father in that garden, and wonder what he found when he took the final walk to the end of that shining green tunnel. I wonder if his wishes came true?
There's a quote from Vincent Van Gogh that reminds me of my father: "I am a burning hearth. People see the smoke, but no one comes to warm themselves."
But there's another quote from Albert Camus I like much better, and hope applies to Dad equally well: "In the depth of winter, I finally learned that within me there lay an invincible summer."
Mirrored from Better Than Dead.
Green Men are found in many cultures. They are commonly a symbol of rebirth and regeneration, the spring greening that inevitably follows the dying of winter. I'm fascinated with them. I have two of them, one in the back yard garden near the peach tree:
The lovely lady to the left of him is the Roman goddess Flora, and the lady on the right is simply named Ivy. The man himself is cast iron and ages gracefully, rusting in interesting patterns.
I also have a Green Man inside: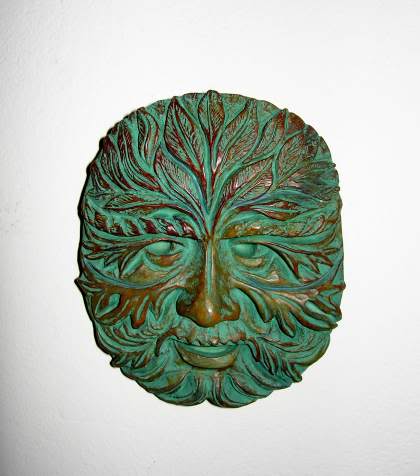 He's smaller, also made of metal, but I doubt he's copper as the green of him suggests. I believe the "aging" on this one is artificial—but I still think he's rather cool. I'd have more Green Men if I had the space and money (so it's probably a good thing I don't). I like the ones with serious and slightly sinister expressions, and I like them to be made of serious natural materials like metal, not these comical cast resin ones that you see here and there and everywhere (though I admit, Flora and Ivy are cast resin). Why am I so fascinated with these Green Man images?
I'm a city girl, born and raised. If I want to get in touch with Serious Nature, I have to drive quite a ways out of town, and when I was a kid we never left town, unless it was to drive to Pomona for the county fair or to Disneyland in Anaheim. There wasn't enough money for anything else, nor any time and inclination with my parents working hard. It just wasn't in the program. As a consequence, I was 18 before I ever went on a real vacation, and as for nature spots? Mom didn't see much sense in going places where you had to sleep on the ground and cook over campfires. She'd had enough of that "nonsense" in her roughing-it country girl days and found no romance in the experience. Why would any sensible human being want to give up modern conveniences?
So I grew up having to take nature where I found it. Fortunately, back in the olden days of Los Angeles, there still existed patches of it here and there. An immense vacant lot existed on my block on Fourth Avenue in Venice, for one. (It is now a public storage facility.) For another, my father planted a magical garden every year, a place of communion and nourishment. (I'll discuss that another time, in The Green Man, Part II.) Occasionally, I got to visit my older brother in the Santa Monica mountains, where my nieces and nephews (all mostly older than me) would lead me on fantastical trips over the hill and through the woods following streams…until we popped out of the rough onto the manicured lawns of the Bel Air Country Club golf course. Then we'd hightail it back into the woods. These things were extremely important to me, as were long walks on the beach, about five blocks west of where we lived.
I loved the beach best when it was cold and rainy, partly because the things that drifted up on shore—the glass, the driftwood, the truly odd and puzzling things, were more interesting and less picked over by other beach walkers. Mostly, though, it was because I could walk there on cold days without much interference from other people, thinking my thoughts, communing with the vast rolling heart of the sea, feeling the chill pierce me to the bones. That chill always felt purifying rather than cold. I could not return from those walks with any black spots in my spirit. The wind off the sea blew them all away and gave me bliss in return.
That garden and that vacant lot saved my sanity during childhood; those walks along the sea saved my adolescence. Nature, my small neighborhood version of it, never failed to renew me. That, I think, is part of why I am so fascinated with the symbolic representation of nature: I want to recapture, to remind myself, of that need for renewal, that need to physically get out and get in touch with something green and greater than the mere mortal.
In my twenties I went on long hikes in the Angeles Crest. It's a great, sprawling wilderness within easy driving distance of Los Angeles. Some of it, like Dart Canyon, is at a low enough elevation that on smoggy L.A. days the bad air penetrates them. You have to hike higher up if you want to avoid the city pollution. But on lovely, clear days Dart Canyon is a enchanted place, with maple and sycamore trees, waterfalls, the ruins of cabins and of a lodge destroyed in a great destructive flood in the 1930s. Higher up, there's pine forest, ski summits, abandoned mines, and scrambling over big boulders to cross streams.
Those hikes were literally peak experiences for me: cleansing, renewing, exhilarating.
My favorite parts of any vacation, whether in this country or another, have been those times when I get into the countryside, touch the green, listen to the birds, feel the wind sweep through my spirit and blow away the black clouds. Nature is my touchstone.
These days—and in the long years of caregiving—that touchstone is mostly limited to the back yard. There wasn't much time for anything else when Mom was alive; these days I still seem to be decompressing from that experience, trying to recoup my energy and my creativity. I'm far enough away from the beach that I'd have to drive, find parking, and my legs…no.
But the funny thing is, it doesn't really take Grand Nature for me to get that sense of renewal. The Green Man is alive, curling in every leaf and bud; his skin is easy beneath my palm in the smooth trunk of my peach tree; he dances in the swaying branches of the white willow that volunteered to grow in my yard. All I have to do is sit for a few minutes, enclosed by walls and trees and wildish overgrown patches, listening to the birds, smelling peach blossoms, feeling the earth and grass under my bare feet…and the magic still happens. I am there. He is there. I am lifted up, I am renewed. Maybe the Green Man is watching over me, I don't know. All I know is that I am grateful.
Mirrored from Better Than Dead.
Lily Dale is a town in upstate New York with a long history of old-timey mediumship—you know, table rappings, séances, psychic readings, that sort of thing. The town was, as Wikipedia says, "incorporated in 1879 as Cassadaga Lake Free Association, a camp and meeting place for Spiritualists and Freethinkers. The name was changed to The City of Light in 1903 and finally to Lily Dale Assembly in 1906." It may have updated its image in recent years, but it still is a town of spiritualists, with all that entails.
"Every summer twenty thousand guests come to consult the town's mediums," the back cover says, "in hopes of communicating with dead relatives or catching a glimpse of the future. Weaving past with present, the living with the dead, award-winning journalist and bestselling author Christine Wicker investigates the longings for love and connection that draw visitors to 'the Dale,' introducing us to a colorful cast of characters along the way—including such famous visitors as Susan B. Anthony, Harry Houdini, and Mae West."
And I have to say, I really liked this book. It's not so much about Lily Dale as it's about the people whose lives changed after visiting and having their worldview shifted. That's the ultimate charm of the book for me, how Lily Dale works on people. Ms. Wicker paints wonderful portraits of past inhabitants and current seekers, their traumas and triumphs and their inexorable movement toward something larger than themselves. It's a very human book, for all its spiritualist craziness. The author manages to walk the line between empathy and irony without either mawkishness or mockery.
If you expect a book of scathing skepticism, this is not that book. If you expect a story of earth shattering mystic revelations and great truths…well, some of them may be there, but they're subtly and often humorously worked into the life stories Ms. Wicker unveils—including her own. I loved her moments of struggle with what she's encountering, her moments of self-parody and doubt, her will to believe versus her will not to believe. Despite digging in her heels and her best reporter's instincts, Lily Dale works its charms on her, shifting her paradigm and leaving her feeling better about her life—without surrendering her rationality.
Mirrored from Better Than Dead.
The purpose of this post is mostly to call attention to this fascinating and readable academic article by Katharine Luomala from Pacific Studies, 1983. Ms. Luomala does a thorough—and nonjudgmental—investigation of the widely perceived phenomena of Night Marchers, torch-bearing spirit processions which are still being perceived today in the Hawaiian islands. These processions seem to share similarities with the trooping fairies of Ireland, as well as other marching "beings." There may also be something of the Wild Hunt in this mythology, as well.
The Night Marchers, however, are distinctly Hawaiian, incorporating in their processions the ritual of taboo, where it was on pain of death that ordinary people looked upon the being of sacred chiefs.
As Ms. Luomala explains:
The most sacred chiefs and chiefesses were carried in litters because their feet would taboo the ground. They seldom went out except at night, thus preventing the disruption of daily labor and the chance of a polluting shadow falling on anything or anybody. A taboo-breaker might be killed or seized for a sacrifice at a high chief's heiau (place of worship). Sometimes the penalty was extended to the violator's entire family group.
Even in spiritual form, it is widely believed, if you look upon the Night March, you will die—or be kidnapped and forced to march with them for eternity. Whenever you see a line of torches flickering in the distance and dark, folk of the islands say it is best to run as fast in the opposite direction as you can. If flight isn't possible, hide—but by all means, do not do any curious peeking from your hiding place or you are doomed. If even hiding is not possible, prostrate yourself on your face on the ground and do not look up until you have heard the sound of marching feet pass you by and disappear in the distance.
Here's the testimony of a limpet picker from 1970:
Suddenly I heard the sound of a conch shell blowing in the distance. Keoki heard it too. I thought it was the wind. Then a little while later we heard it again. This time it was a little louder. It was spooky because we didn't see anything. Then we heard it again. We looked toward Ka-wai-hae side and then we saw it. It looked like a procession. At first we saw a line of torches in the distance. The procession was moving along the coastline. The conch shell blew again.

I took out my knife and Keoki got the rifle. We went seaward and laid down on the lava rock. We knew about night marchers from other fishermen. We knew you aren't supposed to look upon the marchers and to lay on the ground face down. We did this. The marchers passed about fifty yards in front of us on the sand path. As they passed we could hear the sound of a drum pounding beat by beat. We didn't look up until they were farther down the coast. All we could see now was the line of torches, and all we could hear was the far away sound of the conch shell. We didn't know if they were going to come back that night, but we didn't want to stick around and see.
Ms. Luomala recounts many such reports—from native islanders, tourists, European explorers—and places them within the context of Hawaiian belief. Like I said, a fascinating article.
I shouldn't confess this, but I have a terrible addiction to junk TV. I saw a recent episode of Ghost Asylum, one of the stupider ghost hunter shows on the air. They did an investigation of the abandoned Coco Palms resort, reportedly built over one of the well-known pathways of the Night Marchers of Kaua'i. Many locals believe the resort was cursed from the start and is badly haunted. They won't go there after dark, and say Night Marches are common on the property. It was destroyed by Hurrican Iniki in 1992 and never rebuilt. Some locals say this was a curse visited on them for the sacrilege of building on sacred land. But…developers are currently planning to tear down the Coco Palms and rebuild a new, grander resort. This would bring much needed jobs to the island, but local sentiment is mixed. It's not for me to say whether development on a sacred site is a wise plan or just more developer hubris, but the investors have pledged to respect the land. They also brought in a shaman to do a blessing, just in case.
Mirrored from Better Than Dead.
I love crows. Yes, I know. Crows are a hard sell to many people, but I am unrepentant. I'm fascinated by their intelligence, their creativity, and that look of presence when their eyes meet yours. So I was eager to read this book.
It surprised me when it arrived: a thin volume, only 113 pages including the index, but unusually weighty because it's lavishly illustrated (every other page) on high-quality, heavy paper and beautifully put together. It takes great advantage of the space between the covers, cramming in so much information that the weightiness of the book seemed as much from the information as the heavy paper. Using it, I was able to verify that, yes, that exceptionally large dominant crow hanging around my house was indeed a crow and not a raven; and I was able to pick out the adolescent packs and understand their behavior better. Also what some of those screaming matches were about.
Their intelligence and resourcefulness make it easy to understand why crows have become such an integral part of so many mythologies, so much folklore. Their association with the trickster mythology is so ancient that it is shared in both Australian Aboriginal mythology and Native American. Considering how long these populations must have been isolated from each other and from the rest of the world, that's rather impressive. There are trickster associations in European mythology as well.
But they aren't just viewed as tricksters and evil omens. In some Buddhist traditions, they are regarded as protectors of the Dharma—cosmic law and order, among other things. In Hinduism, they are considered to be embodiments of the recently deceased, and to be messengers and information-givers. This echoes the Norse idea of Huginn and Muninn, the ravens who constantly brought information to Odin. And in some American Indian tribes, crows are considered not only tricksters, but creators of the world.
Ms. Savage covers various mythologies concerning crows, the latest scientific research, as well as keen observations of crow behavior throughout the ages. I guarantee you'll have a different appreciation of these wise guys once you've read this book. I thoroughly enjoyed it.
Did you know—?
Crows are the only non-primates who make tools. Other critters use what they find around them as the occasional tool, but crows will actually take what they find and reshape it to accomplish tasks. They have complex social organizations and their own languages (topping 64,000 different calls). They love, they hate, they grieve, they practice deceit as well as bravery, they reason, are tender and harsh. They hit all the standards we declare are solely-human characteristics. They're not only as amazing as I always suspected—they're more amazing.
An excerpt:
[Avian researcher Carolee Caffrey] was observing a nest through a spotting scope when the breeding pair returned to feed their nestlings, only to discover that their nest had been raided by a raptor in their absence. "In all my life, I've never heard such horrible, bloodcurdling screams as the crows made at that nest. The male flew away after a minute or two, but the female stayed behind and, for the next four hours (until Caffrey reluctantly left), tended a surviving but injured nestling by nuzzling it, picking up its neck, and preening the side of its head. All the while, the crow uttered mournful-sounding oohs.
Another, more lighthearted one:
Scientists wanted to test the reasoning ability of some captive crows so they devised a complex series of boxes, some of which had bait inside, many that were empty.
[The crow named] Hugin figured out the rule on the first morning of the trials…His companion Munin, by contrast, couldn't even be bothered to look. Instead, as the dominant bird in a group, he preferred to bide his time until Hugin found the food; then he would muscle in and gobble up one or more of the tasty tidbits….Socially subordinate though he was, Hugin was no pushover. On the first afternoon of the experiment, he came up with a countermove. When Munin began to press in on him, Hugin would interrupt his foraging, fly over to one of the unrewarded clusters, and start opening empty boxes. He kept at it, opening and opening, until Munin came to join him; then, as soon as he saw his rival nosing around the wrong cluster, Hugin would dash back to the rewarded boxes and take advantage of his head start to grab a few extra morsels.
Mirrored from Better Than Dead.